Mojotone has been making custom and authentic reproduction amp cabinets for over twenty years. With two full scale wood shops, we supply cabinets to over 100 different boutique amplifier companies and guitarists all over the world. If you can dream it we can build it!
A few friends & artists who own Mojotone Cabinets... Eric Clapton, Eric Johnson, John Fogerty, Lenny Kravitz, Tom Petty, George Terry, Billy Gibbons, Leroy Parnell, Peter Stroud, Garth Brooks, Zakk Wylde, Morris Amplification, Trail of Dead, Rick Nielsen, Brooks & Dunn, Keith Urban, Brad Paisley, Stephen Stills, Joe Perry, Galactic, Matt Scannell, Richard Marx, Lyle Workman, Glenn Pierce, Yo La Tengo, Sonic Youth, Collective Soul, Jack White, Third Eye Blind, Pete Anderson.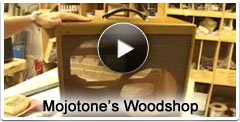 The Mojotone Vintage series cabinets are authentic reproductions of some of the most famous amps of the past. Both dimensions, construction, and materials used are identical (unless otherwise noted) to the originals. All Fender type reproduction cabinets are made using 3/4" finger-jointed, solid pine while all of our Marshall reproduction cabinets are made using 5/8" finger-jointed, Baltic Birch ply. Cabinet baffles are normally made using void free, Baltic Birch plywood.
Mojotone is now offering a line of durable, cost effective bass cabinets. These cabs, made from 3/4" thick MDF, are perfect for the gigging bassist who needs a big sound with a little price tag. The removable baffle makes it easy to change out and test all of kinds of great bass speakers to find the sound you are looking for.
Mojotone is now offering a new series of "Select" extension cabinets at prices to fit your budget! Our Select series, uses the same high quality Baltic Birch Ply and hardware as our regular line of reproduction and custom shop cabinets but we've decided to make these three models in high volume in order to bring the prices down. Unfortunately, at this time we're not offering any custom options on these cabinets. However, we are offering amazing loaded Celestion speaker deals!
Custom cabinets play an integral part of our long history of OEM manufacturing. Our shop can meet your needs with quality and style. Contact us to talk about your custom creation!
From time to time, but not very often, the Mojotone shop will over-build a run of cabinets, the overage always ends up in our surplus stock. These cabinets are in stock and ready to be shipped out within the same business day. In this section, you'll also find scratch and dent cabinets as well as cabinets that don't pass our quality control inspection process. Canceled orders can end up as a surplus cabinets as well.
Mojotone offers a wide range of replacement head shells for both classic and modern designs. Mojotone decided to offer Fender style heads a few years ago to help alleviate the hassle of carrying around an 80 lb combo cabinet.
Spanning from Tweed, Blackface and British style categories, our combo cabinets are as solid as you will find. Our combo cabinets are built using 1/4" finger joint construction for maximum durability.
Mojotone offers several options for extension cabinets. Everything from 1x8's to 4x12's can be achieved by ordering with us. Mojotone offers several classic designs, such as our Bluesbreaker Extension, 4x12 Straight and 2x12 Bassman. Mojotone also offers a few of our own designs such as the Slammins 2x12 and Mojotone standard extension cabinet.